Horizontal geysers or water heaters have a compact and space-saving design that is suitable for bathrooms with limited space or low height.
In case you have a decorative false-ceiling in your home, you will notice that it tends to lower the height of your room. Horizontal water heaters are especially very useful in such locations. They not only help you to save space but also make your bathroom look elegant and luxurious.
Another remarkable aspect of horizontal geysers is that they are very easy to install and manage. It is also less troublesome to get them repaired if needed.
At Racold, we have meticulously designed a range of aesthetically pleasing horizontal water heaters that beautify your modern bathing arena without occupying too much of your wall space.
In this blog, we will give you a detailed understanding of our two horizontal geysers that are widely preferred by consumers across the country.
Best Horizontal Water Geysers in India
As mentioned earlier, horizontal geysers are small yet effective. That means you can count on them for refreshing hot showers in the morning. In this section, we have rounded up the two most stylish and efficient horizontal water heaters by Racold. Read on to explore each of them in detail:
Andris Slim:
The Andris Slim is a horizontal storage water heater. This stylish space-saving unit has been designed by an Italian product expert to ensure superior aesthetics. It boasts of an LED lamp that indicates when the hot water is ready to be used, making Andris one-of-its-kind in this category.
Besides that, it has a temperature regulation knob that allows you to manually set the hot water temperature as desired.
This horizontal storage water heater is available in 20 litres and 30 litres capacity, which means it perfectly fits the needs of your family.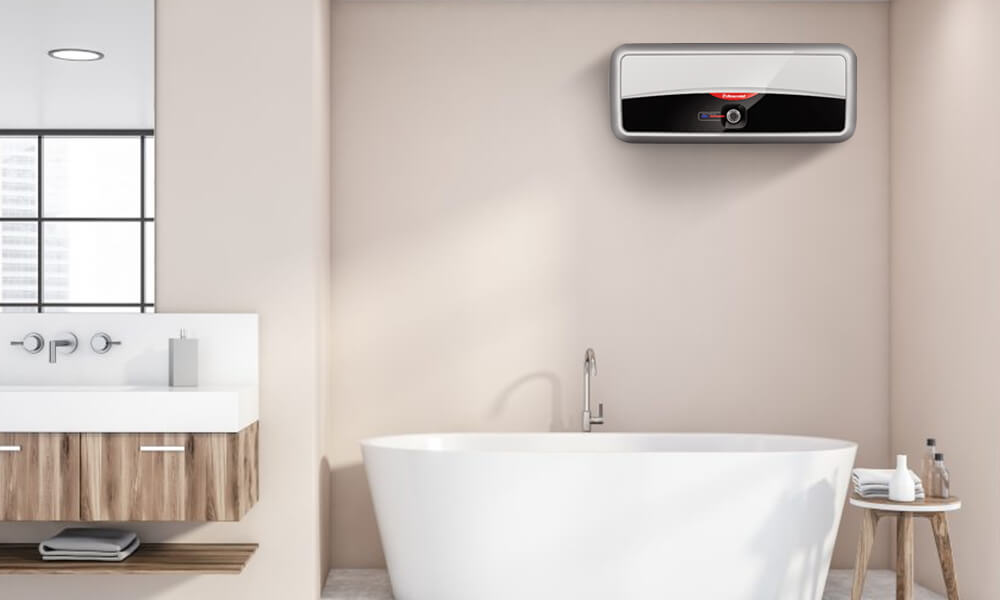 CDR DLX:
This water heater portrays the perfect combination of style, longevity and safety. Its powerful heating element is equipped with Smart Guard, a special anode that protects it against corrosion. Thus, the heating efficiency of this geyser is sure to last longer.
Besides this, the CDR DLX geyser also features a high pressure withstanding capacity of up to 8 bars. Hence, it is well-suited to high-rise buildings and high-pressure pump applications.
This water heater also ensures three levels of safety against high temperature and pressure. That means you can be completely assured about it.
Horizontal water heaters are not only beautiful but also easy to install and maintain. They are a perfect fit for anyone looking for a compact and sleek geyser unit. That's why we encourage you to choose from our range of high efficiency, horizontal water geysers that alleviate the look and feel of your bathing space so that you can enjoy relaxing hot showers every day. Visit our website and check out the product page to explore the best horizontal geysers in detail.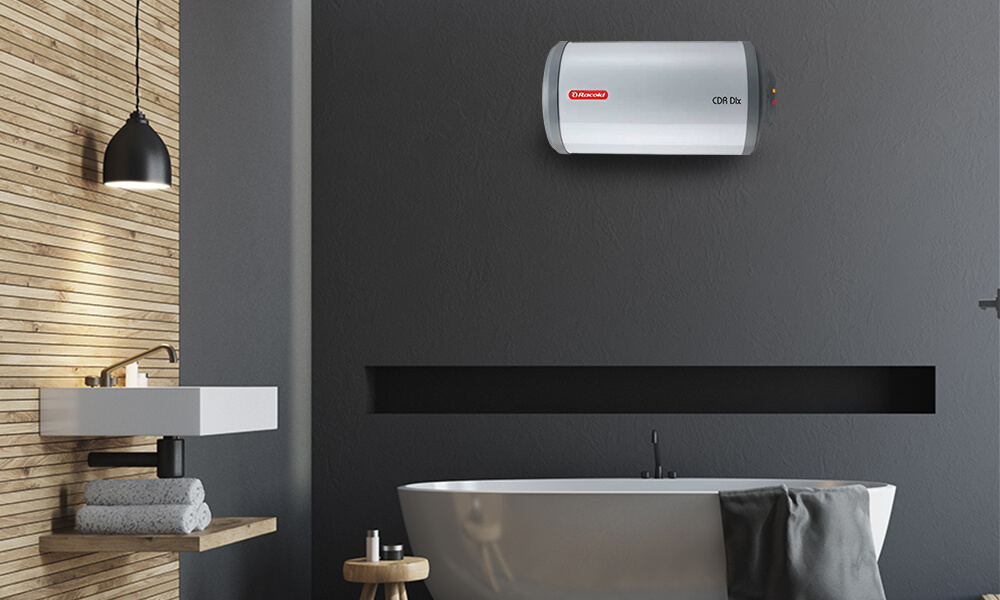 CDR Swift
This five-star rated horizontal storage water heater is sure to impress you with its design, efficiency and durability. It is a compact water geyser that takes a cylindrical shape to suit the look of your bathroom. Equipped with a powerful heating element, this geyser heats water 33 per cent faster and never keeps you waiting in the shower.
The CDR Swift also has exceptional resistance to corrosion, rust and other toxic substances that degrade the tank. This is because it has a protective layer of Titanium Enamel Coating and a Rust Proof body that work to improve its durability. That means you can count on it for many years. You can avail this horizontal geyser in ten litres and six litres capacity.